Auckland itself is a great city, but if you're looking to take a break from the hustle and bustle, you need to get yourself some wheels and hit the road. 
Staying in the city every weekend was driving me crazy. Back home in Seattle, I was out nearly every weekend, usually in the mountains. But that proved difficult to do in Auckland, especially without a car. But with great luck (actually just a really amazing friend) I gained myself the use a car and was ready to go. So a few of us decided to create our own Sunday Funday and get the heck out of the city.
Here are my favorite day trips:
Rangitoto
Hike up a volcano at Rangitoto Island, only a 20 min ferry from the CBD. It has amazing views of the city and takes about a half day including the ferry ride. You even get the chance to crawl through some lava tubes.
Once you hit the summit, be sure to check out the side opposite the city view. You'll get some incredible views of nearby islands.
There is a neighboring island called Motutapu but it is currently closed for restoration. Check out some volunteer options to help plant some native foliage if you're in the mood.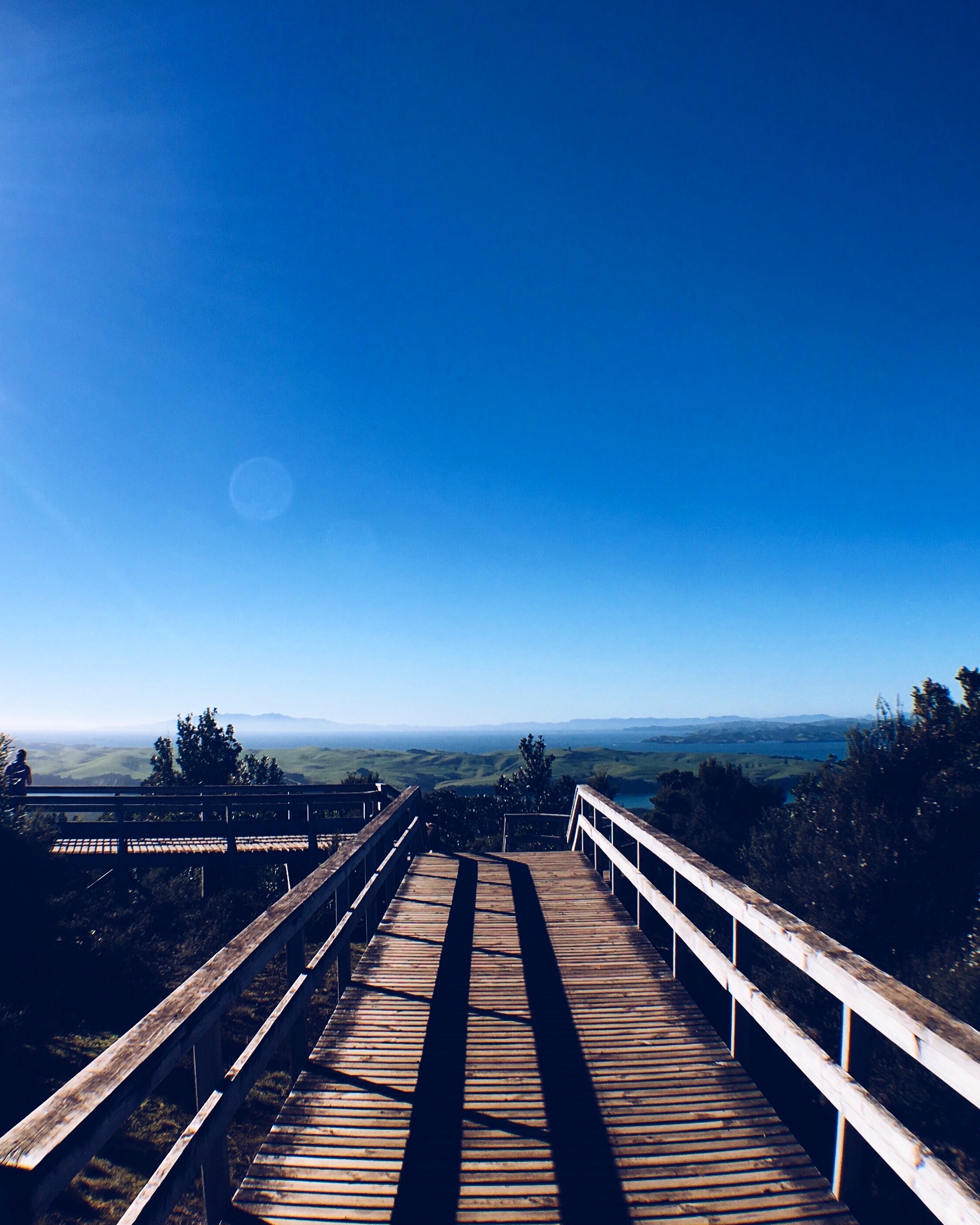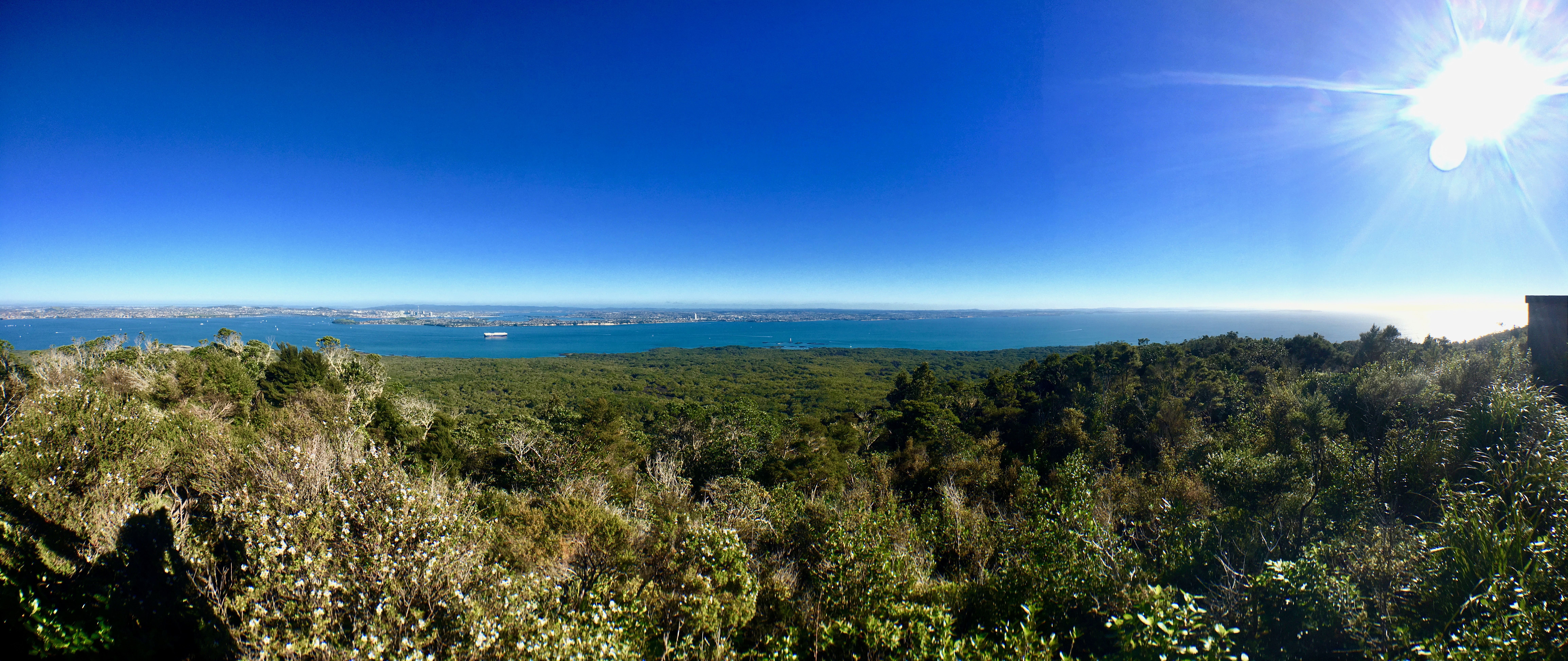 Waiheke Island
Wine taste at one (or maybe 5) of Waiheke Island's wineries. This ferry ride is a bit longer at 35 minutes, but you can start with a glass of wine on board.
Once on the island, you have a few options for getting around.
-The Hop On Hop Off bus has prearranged stops at a bunch of wineries just pay for the ticket up front alongside your ferry ticket and then pay for each tasting as you go.
-A prebooked tour will get you to a few with tastings and maybe lunch included plus a chance to meet some new people. These will usually cost at least $160nzd (not including the ferry), but keep an eye on BookMe for awesome deals.
-Or you can catch the local bus and create your own wine tour!
I recommend just booking a for your first visit, as picking the wineries and route yourself can be a bit daunting. I that because I have done each type of trip at least once. Don't judge me.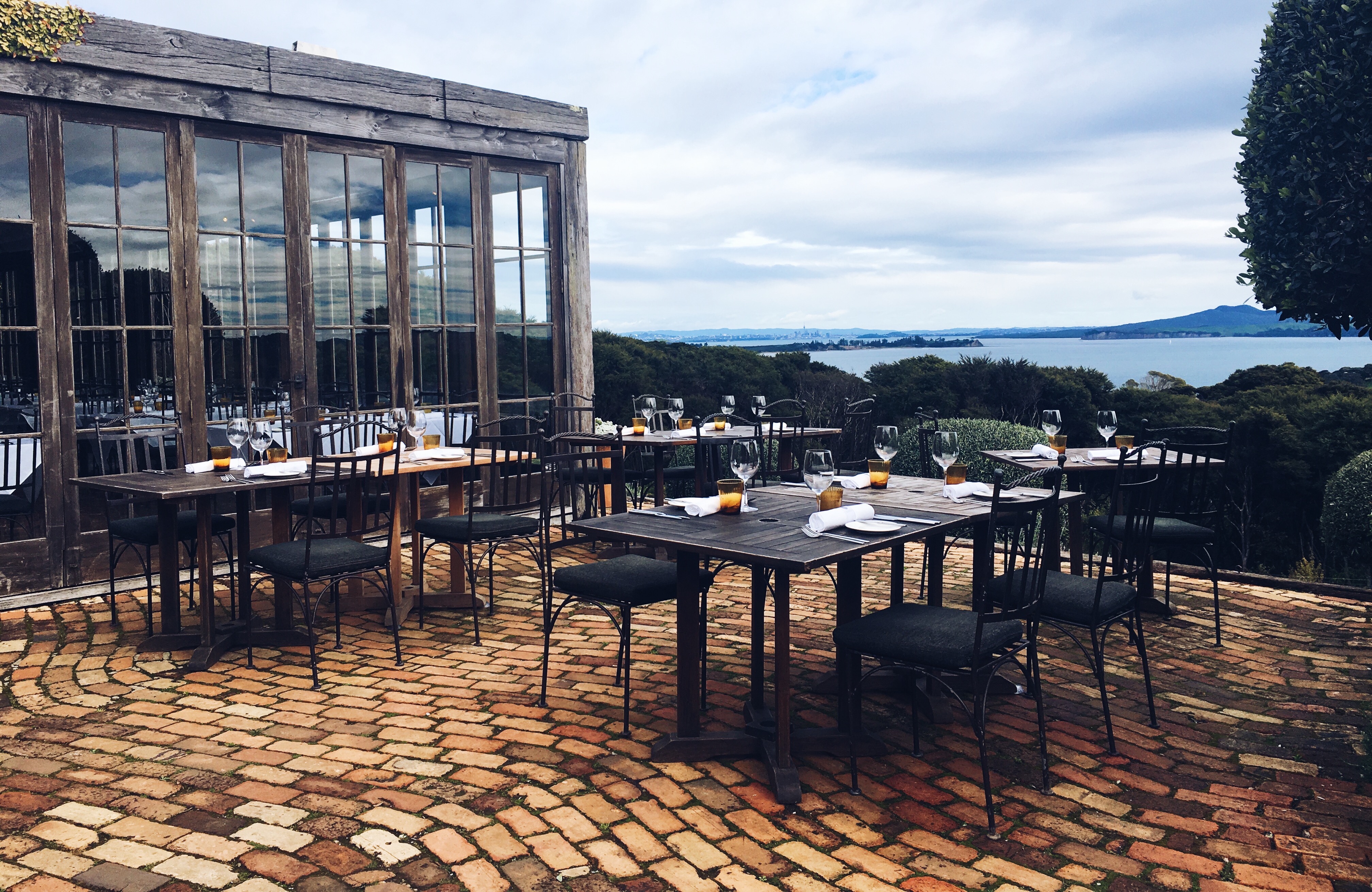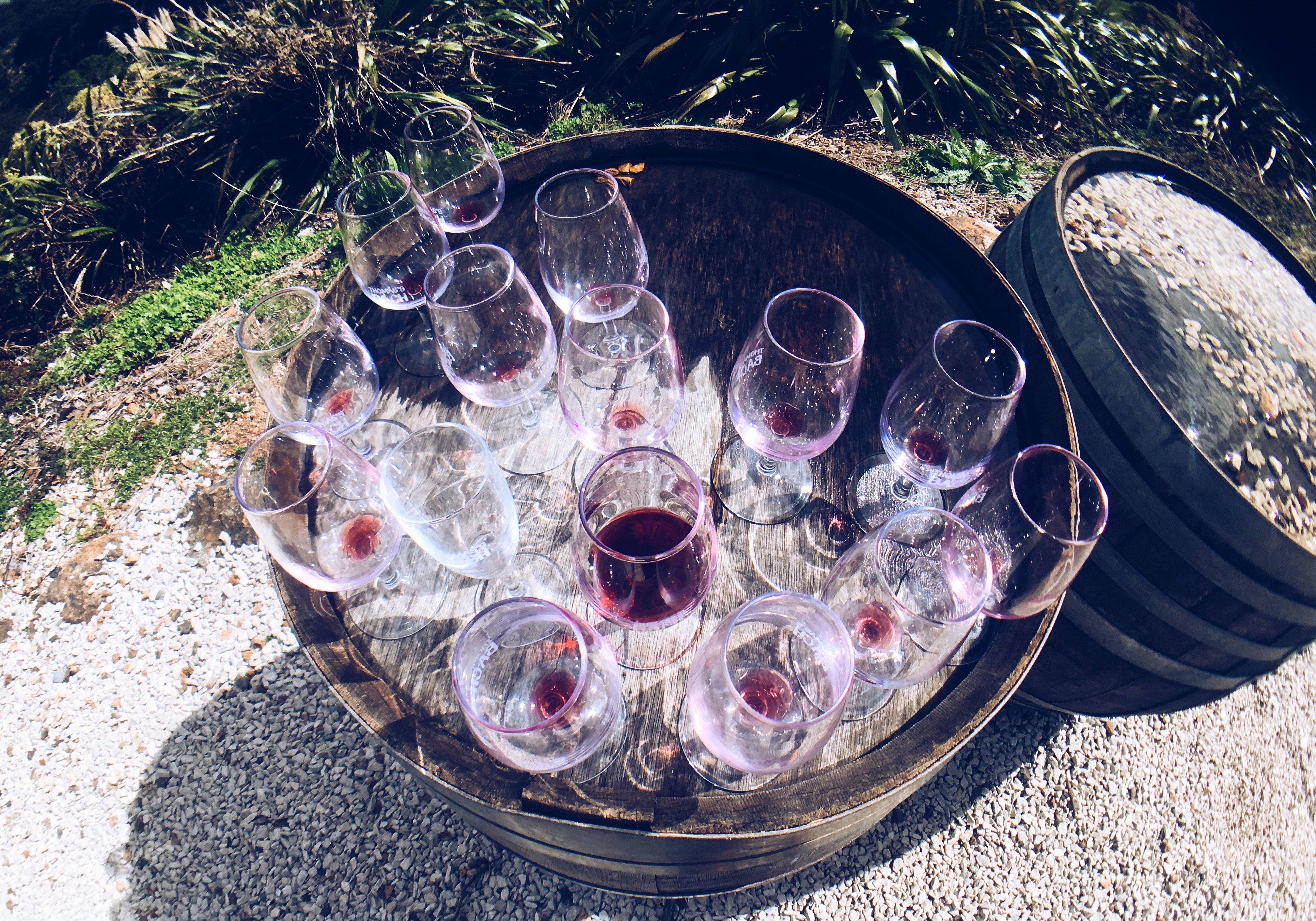 Tawharanui & Matakana
We happened upon Tawharanui on the last minute recommendation of a friend. We could not have lucked out any more. The beach is absolutely stunning, plus there are farm hills to trek through and plenty of tide pools to check out. We camped overnight here and I would definitely recommend this place. I think this might actually be my favorite place in the greater Auckland area.
The Matakana market is on your way to Tawharanui. There are loads of vendors there selling everything from art to clothing to produce. But let's talk about what's really important – the food! You can taste all sorts of sauces, oils, chocolates, cheese and pretty much everything else.
Pro Tip – don't take the shortcut from the upper area to the lower area at Matakana. You'll slip and end up covered in mud like I did!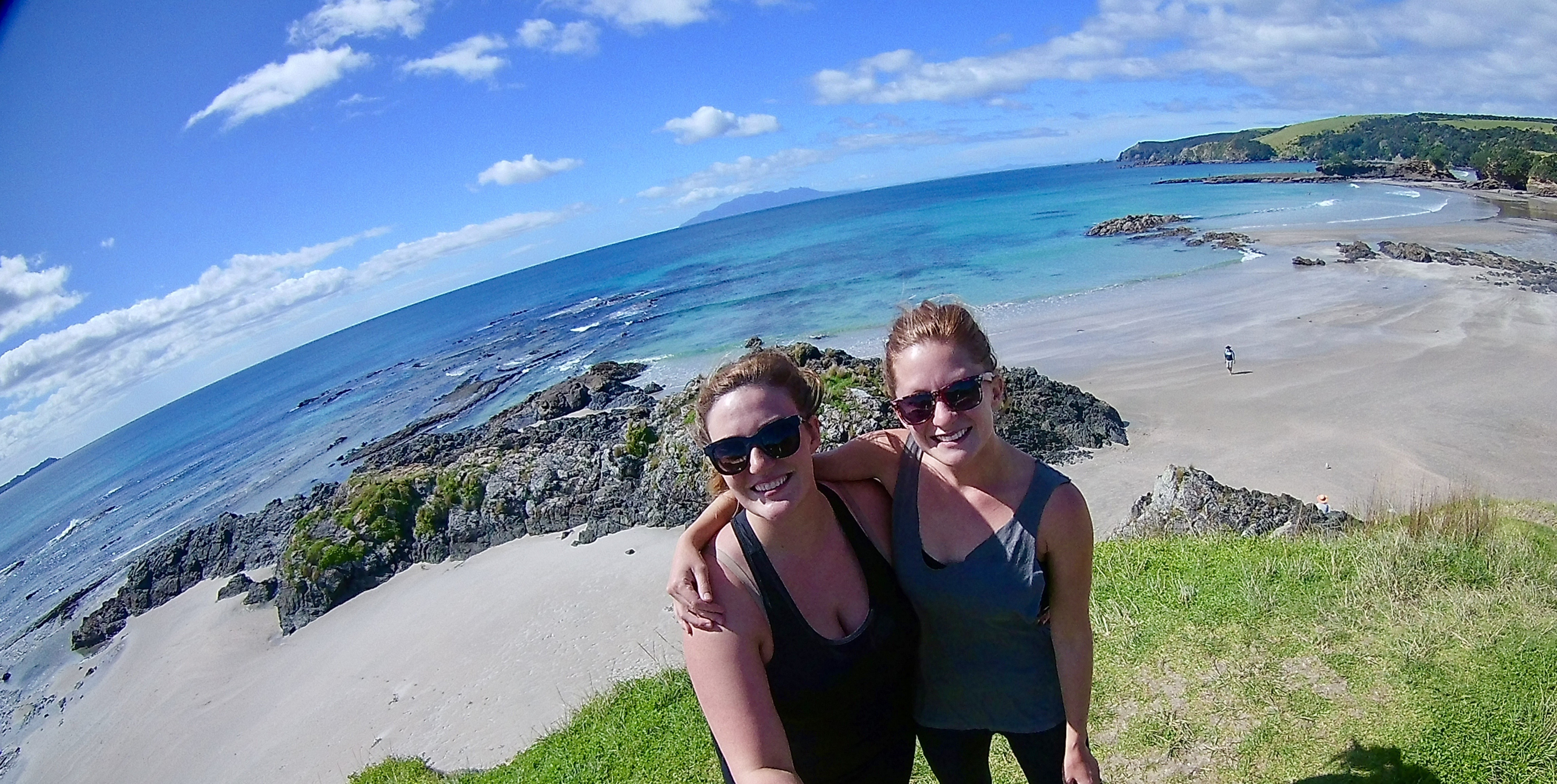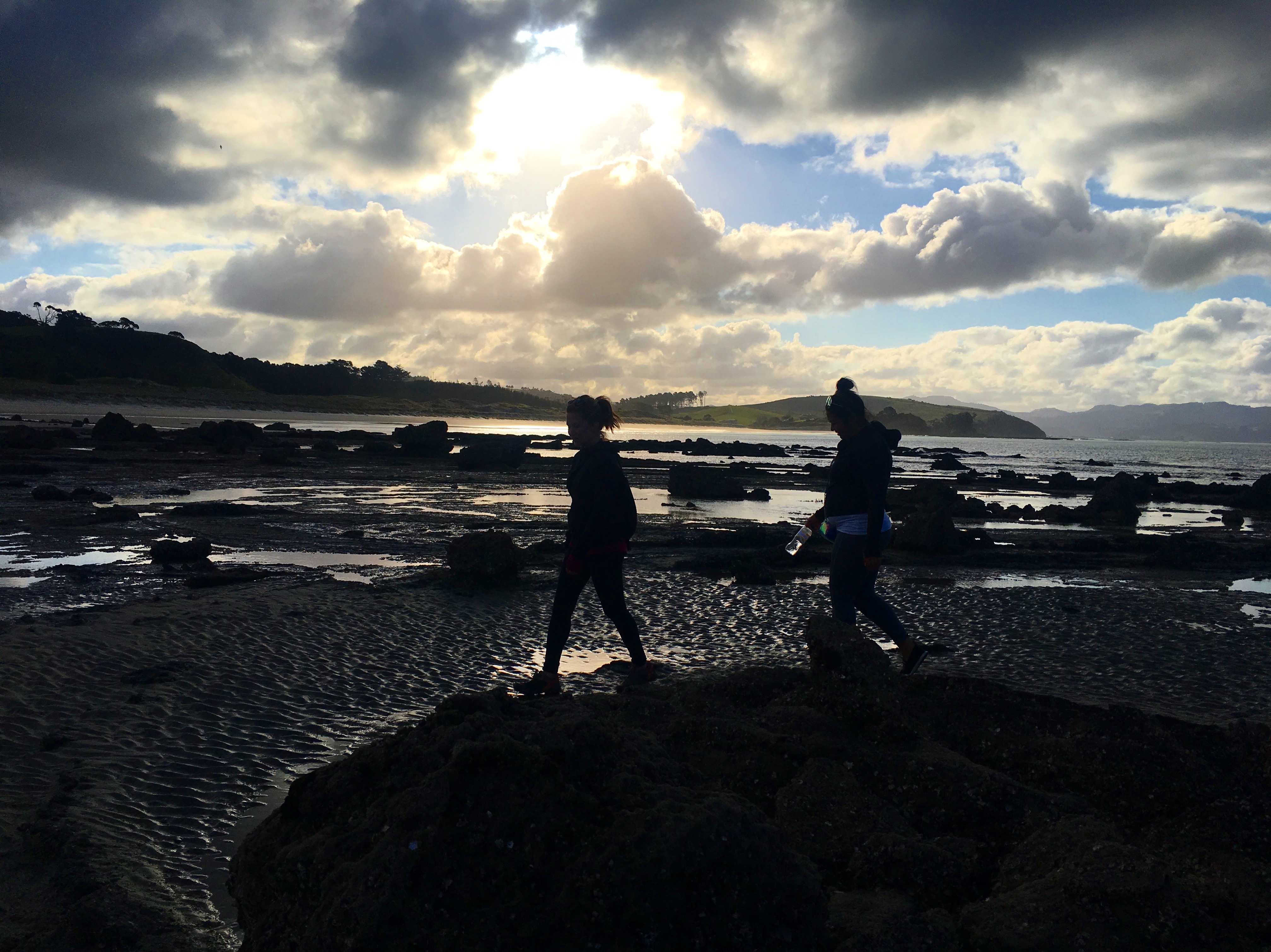 Blue Springs
Another place I would HIGHLY recommend. It's easy access from Hamilton and Rotorua, but still only a 2 hour drive from Auckland.
There aren't really words to describe this place, but please remember that this area is protected, and there is no longer swimming allowed.
But it is a tropical oasis in the middle of farmland that absolutely blew me away. The entire return trip will put you at about 10km, so bring a little snack, comfy shoes and lots of water. There is a parking lot at either end if you want to relay cars, or just hitchhike back to the other carpark like I did.
Make the stop in Pokeno for ice cream on the way back. You've earned it!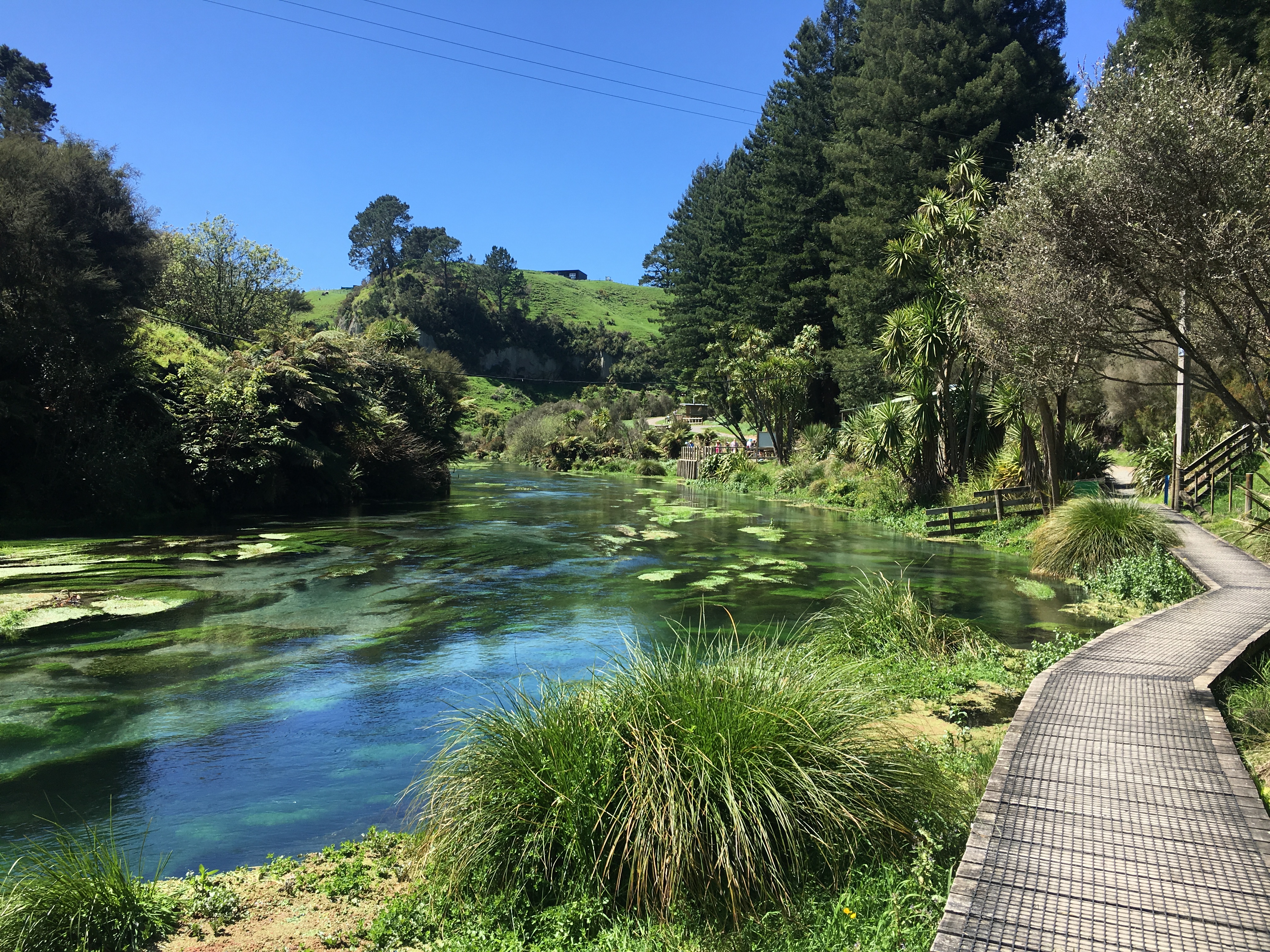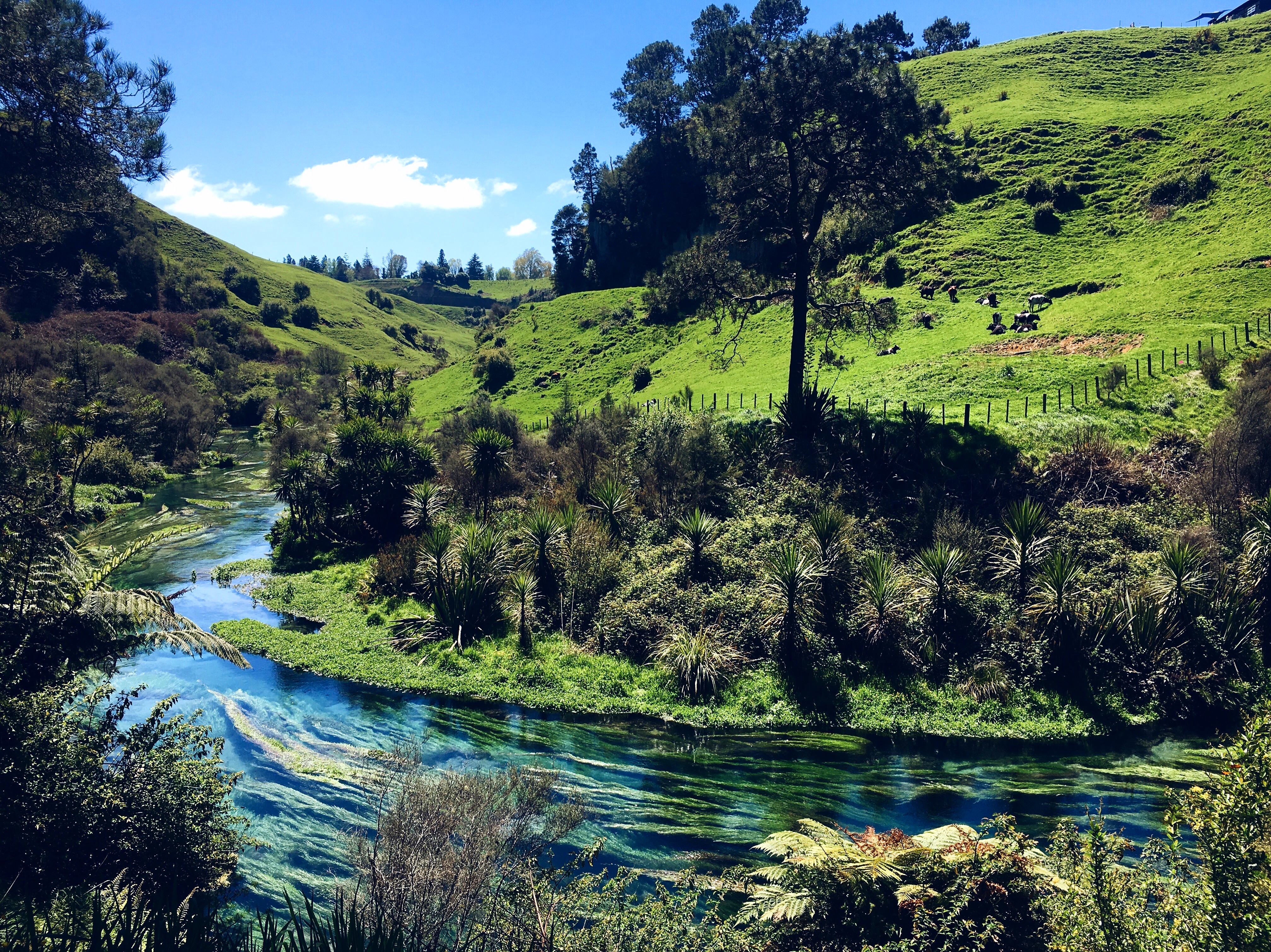 Piha
Not to be confused with Paihia. I got to check this place out on my third day in the country, and I've been back many times since. It's a beautiful drive through the Waitakere Ranges where you can stop off and take on any of the multitude of hiking tracks.
When you come around one of the final corners, you get your first view of the beach, and it only gets better. You can hike halfway up Lion Rock (the upper half has been deemed too dangerous after a number of tourists fell to their deaths) or just trek around the beach and nearby cliffs.
If you decide to go swimming, please be aware that there is a very heavy rip here. Again, many tourists die because they are unprepared. I realize I'm making this place out to be a death trap, but I swear it's not. Just be smart. Or just sit back, relax, watch the surfers and enjoy the sunset.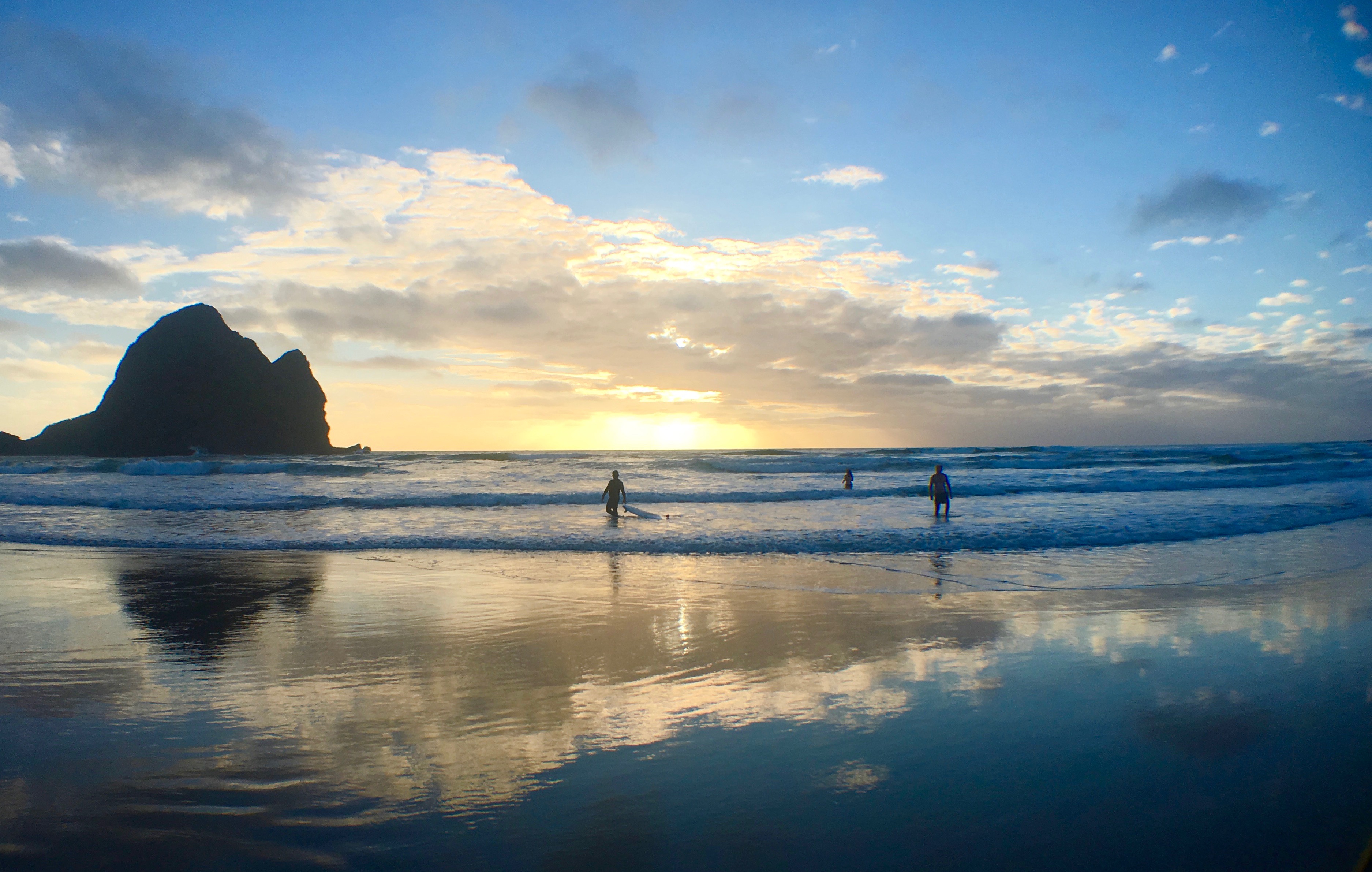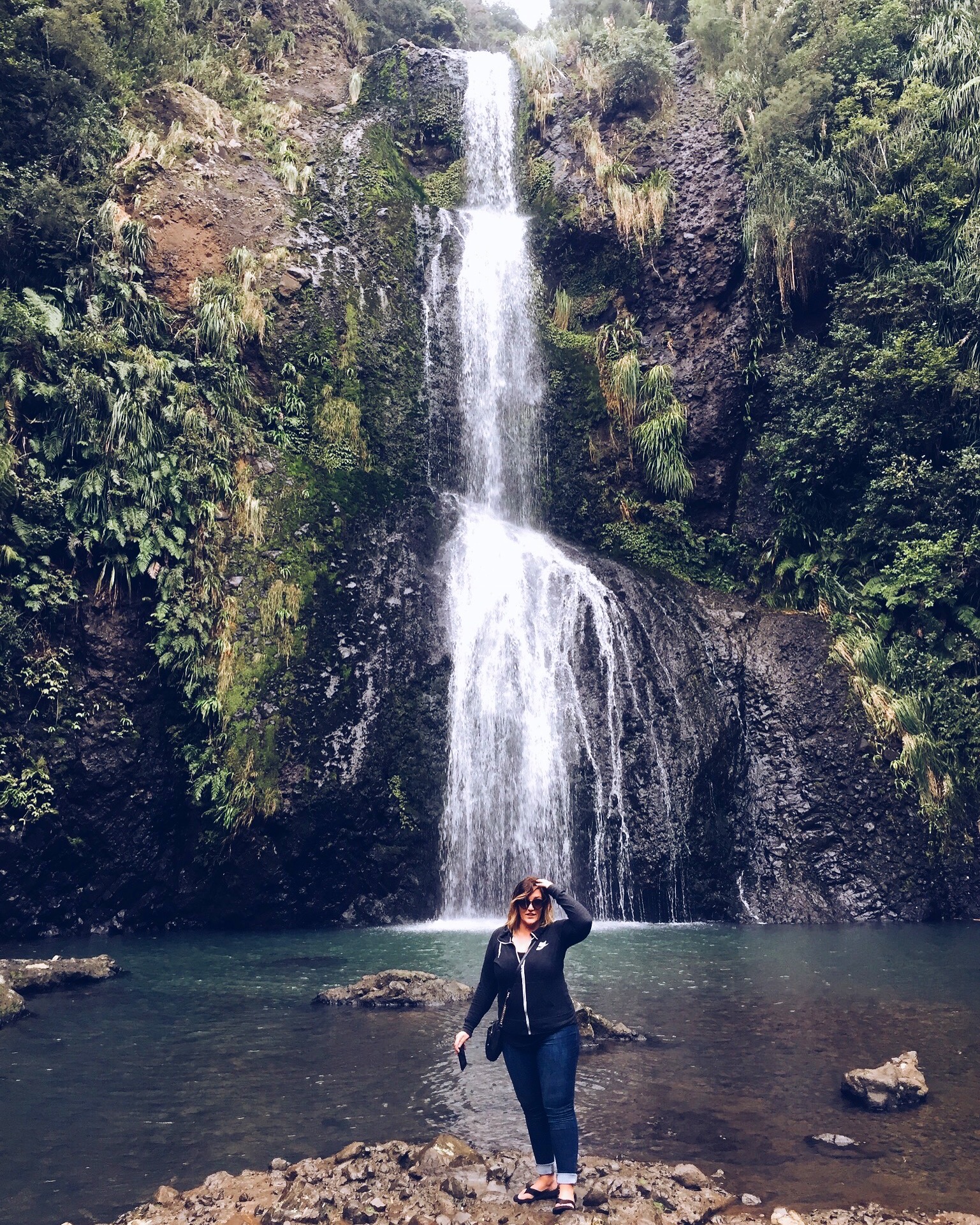 Again, I recommend having a car in Auckland. Actually, in New Zealand as a whole. There are so many incredible places all over this country, but you'll need to find a way to access them.
Check out any of my New Zealand posts for plenty more recommendations if you have the opportunity for more adventures!