When I decided to go to Italy on my first trip abroad in 2012, I knew that I would fall in love with it instantly. This was going to be my first real solo travel experience. I don't know why I thought 4 days would be anywhere near enough time.
It wasn't.
I flew into Ciampino from Manchester after spending 2 weeks with friends there. I took a shuttle to Termini station where I could walk to my hostel and most everything else I wanted to see. Flying in, you fly directly over the Colosseum. It is directly in the middle of a bustling city. I imagine it must be similar to how the Pyramids are situated in Giza.
When I planned it, I knew this trip would be about history. I didn't plan any partying to adventures. And I went into the this knowing I wanted to get out and take in as much as I could.
I stayed at Alessandro Palace (they have a downtown location too) on Via Vincenza. I definitely recommend this place. It was beautiful and clean and our room even had a little balcony looking into the alleyways. I was cooked in a 4 bed dorm with 2 solo male travelers. (I can't remember their names, nor do I have any pictures of them. Reason #27 to keep a travel journal.)
I was there 3 nights but really only had 2 full days. So the very first thing I did was head to the front desk to find out about tours. I booked 2 walking tours; one for each day. Then I headed out to explore the area around the hostel.
I found a great little place that I went to everyday. It was a little cafe stand on Via Solferino and Via Volturno that was perfect for people watching.
Night Tour
On my second night, I headed out to meet the walking tour just before sunset. We started in the Piazza della Repubblica with a fairly large group. Our guide gave us a quick rundown of the night and then we headed towards Bernini's Triton Fountain. The city looks competely different at night and was absolutely stunning.

Next we made our way to the Spanish Steps and the Trevi Fountain. Talk about being blown away! It is still powered by the aqueducts and used to be a very functional part of life to ancient Romans. Of course, I threw in a coin to guarantee my return to Rome. It was completely packed with other tourists, so we didn't stay long.
Around the corner we got gelato at Giolitti. We were not disappointed. I heard people mentioning that it was the best place in all of Rome. The tour ended at Campo de 'Fiori. Originally it was a space for performances, horse racing, and public executions. Sounds lieka blast right?
At some point we made our way back to the Colosseum. I think it was on our way back to the hostel. I was luck enough to have one of my dorm mates on the tour with me who helped me navigate the public transportation at night. We all know I probably would have gotten myself lost.
Colosseum and Roman Forum
The next day I got up to meet the tour early. We wanted to be rounding down the tour by the time the midday heat struck. I have heard about the Italian summers, and no one was in the mode for heatstroke.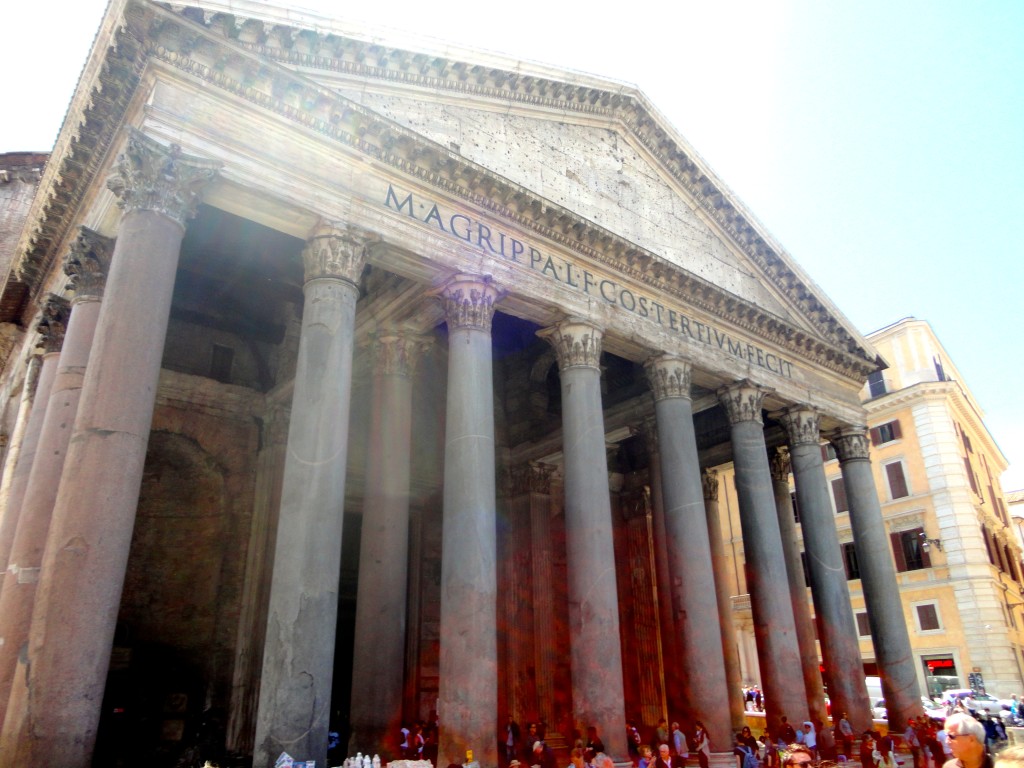 Our tour guide was a young American girl who was studying at the university in Rome. For some reason (I can't remember why) the group opted out of going inside the Colosseum. Of course, I regret that decision. But we did spend a good amount of time walking around.
We all know the history of the Colosseum, so I won't go over that. What I didn't realize it that much of ancient Rome was covered in marble. Buildings, streets, and the exterior of the Colosseum. There is a scale model (I can't remember where) of what the city would have looked like at that time.
The group moved towards the Arch of Constantine and then headed for the Roman Forum. We passed some of the old aqueducts that were still in fairly good shape. The Pantheon was another stop. Built for the god of Olympus, it felt like magic when we went inside. The only light source it the 9ft opening at the top of the rotunda. It remains one of the most intact buildings of ancient Rome,
We also were able to walk through the old Jewish Ghetto. On the buildings there were plaques naming the tenants who had been taken to internment camps during the Holocaust and never returned. It was heartbreaking.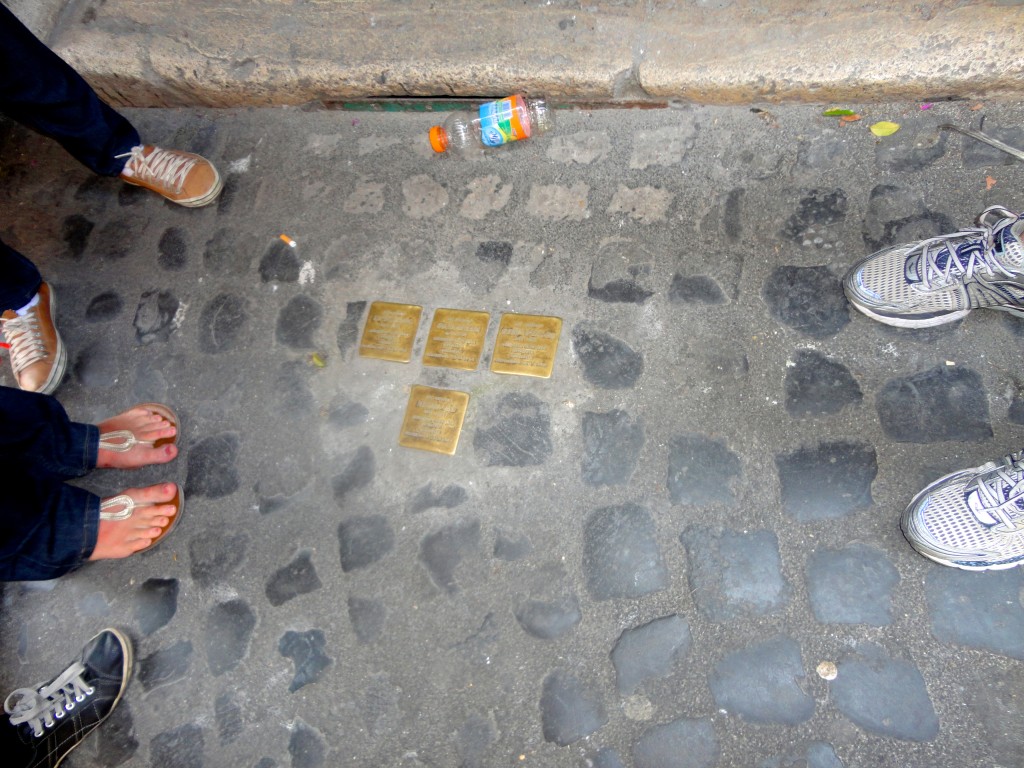 The whole tour lasted about 5 hours. It was a smaller group so our tour guide took us on a few extra side excursions through her favorite parts of the city. We finished our tour at Spaghetteria L'Archetto, her favorite restaurant. It was such a great opportunity to sit around and chat with other travelers over wine and pasta. Also- did you know that it is pretty standard for restaurants to water down their red house wine? What?!?! Apparently it is not the same for white wine, so keep that in mind.
That night I went for more past and wine (when in Rome, right?) with my 2 dorm mates at a restaurant around the corner. We debated going on a pub crawl but opted for a more mellow night since were all headed out the next morning. We did take a bottle of wine to the rooftop of our hostel before actually heading to bed. It seemed like the appropriate thing to do for our last night in Italy.
I opted out of visiting the Vatican. I am not a religious person, but of course it is something that I want to experience. But I only had a short amount of time, and that would have taken up a great deal of it.
Plus, now I have an excuse to go back to Rome. Clever, eh?