(Disclaimer: Please excuse my lack of writing skills, they will improve over time.)
I always knew I would get myself to Alaska. It just so happened that my friend took a job in Anchorage, so away we went.
There is a whole lot to see in Alaska. I feel like in less that 4 days, you can barely even scratch the surface. And unfortunately, it rained nearly the whole time we were there. The gorgeous views I expected of the mountains were mostly covered up by the gray clouds.
Our first stop of the day was a little mom and pop called Granny B's. My friend had only been there once or twice before, and we were fresh off the plane, but we were treated like family none the less.
After that we headed out to walk around downtown with Irish coffees and screwdrivers at Pioneer Bar. We walked the trail down to the mud flats and hit a couple places on the Anchorage Light Speed Planet Walk which was actually really interesting. It is a to-scale walk of our solar system with tons of information about each planet.
That night we went out to a soft opening at Williwaw. We actually ended up going two nights in a row. Free samples of their menu, great drinks and a phenomenal waitress who served us both nights.
The next day we drove up to Flat Top, where we were completely encased in fog and missed the view we had been promised. But did get to see the only moose of the trip when we were driving down.
Then we drove about an hour south on Seward Highway to try and catch some views. We were not disappointed. While we did not drive the entire 125 miles, the highway stretches all the way from Anchorage to Seward.
That night we went out and bar hopped around with friends of friends and were able to get a better feeling of the night life in the city. We even got a little eskimo culture lesson. I think we all indulged ourselves on drinks a little more than we had anticipated by the end of the night.
On our last full day we began with brunch at South. Everything we ordered was absolute perfection. I highly recommend this place. It has a great vibe, a small bakery and coffee shop attached and is right now door to some really cool shops.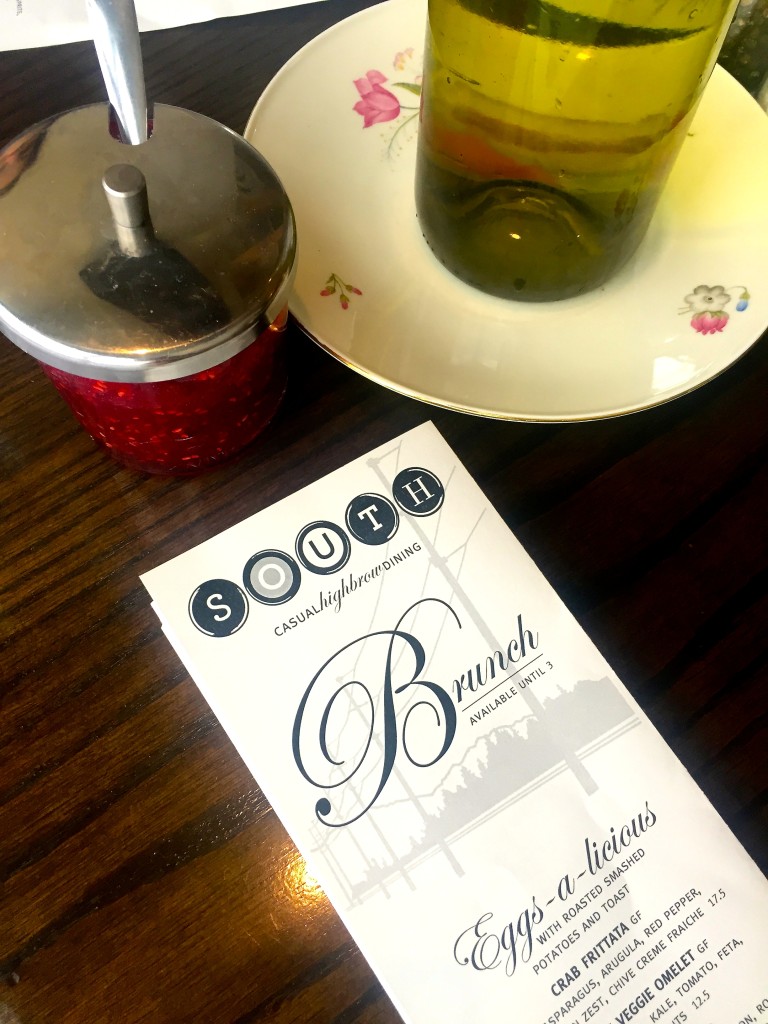 The entire trip, we could believe the level of service we were getting. Everyone was so kind and attentive. It's the kind of service you always hope to get a restaurants, but usually end up with something simply average.
With extremely full bellies we left to hike around Thunderbird falls. Unfortunately, the rain had us turning back rather quickly. We made it up to the edge of Hatcher Pass before the snow started and the road was closed down.
We came to terms with the fact that we were not going to get the outdoor experience we had been expecting before we left. But at the end of the day, what brought us up here was our friend, the scenery was just a bonus. The three of us decided to stay in on our last night and ordered Moose's Tooth to go.
Before we headed to the airport on Monday afternoon, we spent an hour or so walking around Eagle River Valley.
The clouds decided to clear and finally, we were able see a glimpse of mother nature.
Ok Alaska, I get it now.
Needless to say, there is a whole lot we didn't get to. But I was so happy to get a chance to visit and will absolutely be going back.